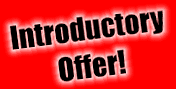 For A Limited Time:

Experience the Personality and Behavioral Surveys successful businesses around the world use to build their teams!
Benefits To Knowing Your Personality and Behavior:
FOCUS & BUILD ON YOUR STRENGTHS
BE AWARE OF AREAS THAT MAY NEED IMPROVEMENT AND POTENITAL PITFALLS
FOCUS ON CAREER CHOICES
BLEND PERSONALITY IN ORGANIZATIONAL SETTINGS TO ACHIEVE YOUR GOALS
IMPROVE COMMUNICATION SKILLS
HELPS TO RESOLVE CONFLICTS IN PERSONAL RELATIONSHIPS

NOTE: This is the complete test that we normally charge $75.00 for! This is a one-time offer. Sorry, only one per company.
---
[About Us]|[Team Builder Survey]|[Introductory Offer]|[Order Form]|[E-Mail Us]|[Return Home]
---
This site designed, built and marketed by...